A culinary national dream trip
Margaret Webb
Special to The Star, June 28, 2008
Aboard via rail's Silver and Blue-I knew I would get little sympathy when I announced my latest adventure, my Boston Marathon, my Everest: to eat my way across Canada.
For one, my chosen mode of travel was a little too posh: VIA Rail's famous Silver and Blue transcontinental service from Vancouver to Halifax.
As my mother said, "That's like a cruise ship isn't it? Only it goes over land?"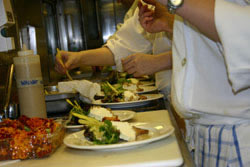 PHOTO COURTESY VIA RAIL
VIA Rail chefs, above, prepare
elegant meals using distinctly Canadian products — such as wild Pacific salmon
and Atlantic lobster.
Yes, but VIA's "land ship," which stops at dining capitals across the country, is a great way for a foodie to explore Canadian regional cuisines. And forget scenery; on the train, meal service was the major preoccupation of passengers.
I suppose it only makes sense. After all, what exactly does one think about when trundling past British Columbia salmon streams, Alberta ranches and Quebec dairy farms but wild Pacific salmon, a beefy grass-fed striploin or a barny double-cream cheese?
Shortly after the train chugged out of Vancouver, the porter entered our observation car to announce first call for supper. VIA schedules two and even three seatings on busier trains and early reservations are hotly sought after.
That day, the clock had barely clicked past 6 p.m. We were just passing over the Fraser River and about to enter the Rocky Mountains, aglow in splendid evening light. Yet many passengers had clearly had their fill of scenery and hurried past the glum lot of us stuck with later reservations.
I made my way to the bar car for hungry hour, to contemplate my culinary quest. Like the railway builders dynamiting an impossible route through the Rockies to complete the rail link in 1885, my 5,800- kilometre-journey from Vancouver to Halifax would have its challenges. While other passengers relaxed on the four-day trip to Toronto, I would disembark in every province to sample Canada's top restaurants serving local fare. And this would involve some hard driving and even harder choices.
Before boarding in Vancouver, for instance, I had time for only one dinner. This is the smug centre of the longest growing season in Canada, where The Hundred Mile Diet was written. How to choose from a plethora of restaurants serving local B.C. fare and ramping up to be foodie feeding trough for the 2010 Winter Olympics?
I decided on a stalwart, Bishop's. The excellent dining room has been supporting area farmers and fishers long before the locavore label became fashionable. That evening, I enjoyed a fillet of B.C. halibut, fat and sweet from the spring ocean and perfectly grilled, with a delightfully Canadian touch: browned butter cider sauce.
On the train, I discovered that VIA is as resolutely committed to serving signature Canadian foods - wild Pacific salmon, beef tenderloin, hemp-crusted pickerel and, on the easterly service, Atlantic lobster. The wines (recommended for each meal) are also 100 per cent Canadian, as they should be on this national dream trip. Selections included elegant Okanagan Pinot Noirs and reserve Chardonnays, superb Niagara Rieslings and reserve Baco Noirs, and on the easterly service, the signature L'Acadie grape from Nova Scotia's upstart wine region, as well as Jost's excellent Trilogy blend of three reds.
But before I could eat another supper, the train was chugging away from Edmonton through a late-spring snowstorm, and I was driving through it, south to Calgary and The River Café, helmed by one of the youngest, brightest chefs of Canadian cuisine, Scott Pohorelic. He sends his kitchen staff out to their partner farm to work an heirloom vegetable garden so they gain an appreciation for farming and local taste.
He also recognizes that the preparation of a great steak starts in the field. So, rather than industrial, feedlot-raised beef (as 80 per cent of Alberta beef is), he serves up a truer taste of the province: grass-finished Angus or organic beef raised on the ancient fescue grasses in the foothills of Southern Alberta. The beef is a revelation and worth the trip.
Back on the train, I managed to nab a reservation for first seating, allowing me to pack all three meals into daylight hours in a dining room that serves up continuously changing scenery. With the Prairies and Saskatchewan's stunning Qu'Appelle Valley flowing past, and a glass of peppery Henry of Pelham Baco Noir flowing into me, I imagined how relaxing it would be to take the train straight through to Toronto.
But there was Prairie cuisine to experience.
As VIA stops only in Saskatoon at midnight, I detrained in Winnipeg and drove back to Regina to lunch at the impressive Willow on Wascana. The patio overlooks the downtown lake and the province's legislature buildings. The food rivals the dramatic setting.
Chef Moe Matthieu uses words like aboriginal, explorer, and homesteader to describe the Saskatchewan cuisine he's nurturing. His menu features the grassfed bison and the Willow's famous land chowder (leek and potato, studded with Pine View Farms pork), but the pickerel perogies are a stroke of culinary genius, tarting up the traditional Ukrainian dish.
In Winnipeg, Fusion Grill has probably done more to encourage local eating than any other in this restaurant-obsessed city. Owner Scot McTaggart even leads tours to visit his favourite producers of farm-raised elk, wild boar and Manitoba Golden Caviar, made from the roe of white fish.
Fusion's cuisine features prairie ingredients in ethnic and contemporary dishes, resulting in such highlights as panko-crusted pickerel cheeks, wild mushroom strudel, and duck breast confit with a wild rice potato pancake.
Back on the train, I chatted to a VIA chef about the challenges of cooking "Canadian" in a tiny galley kitchen barely wide enough to open a stove door.
"You have to be organized," Greg Kempel told me.
No kidding. The chef prepares three meals a day, five choices at each serving, for 100 people, which adds up to some 1,500 meals a day.
He starts work at 3 a.m. - "some chefs start at 5 a.m. but I don't like to be rushed doing prep" - and works straight through until he goes to bed at 10 or 11 p.m.
But the hard work means meals on the train are freshly cooked and hearty, though of the "meat and potatoes" school, as Kempel described it. Every passenger I spoke to raved about the meals. Being a zealot for local fare, I would have preferred naturally raised meats and more local produce and fruits. The cheese plate, for instance, remains the same but I would have loved to have sampled highlights from regions we were passing through, or even tried a sampling of three great Canadian cheeses that changed daily.
For my part, I tried my best not to make meals the most anticipated hours in the day. Afternoons, a VIA co-ordinator announced events in the activities car. On this trip, I was the event, the writer guest aboard the train, reading from my new book, Apples to Oysters: A Food Lover's Tour of Canadian Farms. I figured it only made sense to read a chapter about organic cowboys raising beef on the foothills of southern Alberta as the train emerged from the Rockies. Or read about Canada's little ambassador, icewine, as we entered its homeland of Ontario. But I don't think I eased anyone's hunger for this country. Passengers lingered for questions - until the call for first seating in the dining car.
I skipped stopping in my home city of Toronto and continued east on my final leg.
I hopped off the train in Montreal to visit the Atwater Market and the excellent La Fromagerie du Marché Atwater, with the largest selection of Canadian cheeses, 150 from Quebec alone.
Ask questions, try something new - the helpful staff love adventuresome eaters. And they packed me small samplings of four cheeses to pass the hours on the train before my late reservation for dinner.
With time pressing, I bypassed New Brunswick to reach my final locavore indulgence - lunch at The Tempest Restaurant in Wolfville, often hailed as the best in Nova Scotia with the added virtue of being just an hour's drive from the train stop in Halifax.
Chef Michael Howell serves local sustainable seafood, including a delicacy few Nova Scotians know about: sautéed farmed scallops with the gonads attached. These meats are often smaller and sweeter while the gonad, usually discarded when wild scallops are shucked at sea, is the best part, tasting of lobster roe or caviar. And compared to eating fished scallops, which involves damaging dredging of the ocean bottom, one can enjoy these succulent treats guilt-free.
I spent that afternoon discovering a few more surprises in the nearby Gaspereau Valley where two new vineyards are raising the bar for Nova Scotia's nascent wine industry. Winemaker Bruce Ewert traded a good career in the Okanagan Valley to start up the organic L'Acadie Vineyard and his first release of table and sparkling wines show incredible promise.
Nearby Benjamin Bridge is releasing its first vintage this July - the aptly named Nova, an intensely flavourful off-dry blend of white grapes. But their focus will be on making head-turning sparkling wines and they have enlisted one of the top champagne consultants in the world to help them realize that dream. They also plan to build a multi-million-dollar winery to showcase the sparklers, hopefully open by 2010.
That, of course, gives me an idea for another train trip, with stops at wine regions across the country.
Just the facts
For more information on Via Rail's trains and schedules, see
www.viarail.ca
Bishop's restaurant,
2183 West 4th Avenue, Vancouver,
1- 604-738-2025,
www.bishopsonline.com
The River Café,
Prince's Island Park, Calgary,
1-403-261- 7670,
www.river-cafe.com
The Willow on Wascana,
3000 Wascana Dr., Regina,
1-306-585-3663.
www.willowonwascana.ca
Fusion Grill,
550 Academy Rd., Winnipeg,
1-204-489- 6963,
www.fusiongrill.mb.ca
La Fromagerie du Marché Atwater,
134 Atwater St., Montreal,
1-514-932-4653.
Tempest,
117 Front St., Wolfville, N.S.,
1- 902-542-0588,
www.tempest.ca
Margaret Webb is a Toronto-based freelancer writer whose trip was subsidized by VIA Rail.